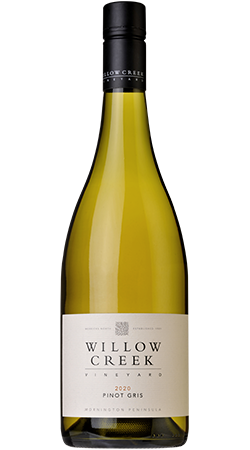 2020 Willow Creek Vineyard Pinot Gris
Bushfires, risk of smoke, heatwaves, tiny crops…the year that had everything, and then got worse. At least we still have wine! This is the last crop of Pinot Gris from the Willow Creek Vineyard, as we took the tough decision to make way for more of our own Pinot Noir.
The Pinot Gris was hand harvested, with the majority then destemmed and pressed to old barrels for fermentation, but around 10% was fermented as whole bunches to bring fragrance and some texture to the blend. The wine matured for 9 months before being bottled in January 2021.
Wine Profile
Tasting Notes
Colour: Pale straw. Bouquet: Pear drops, rose floral lift, and slight redcurrant notes. Palate: Quite exotic fruit and floral flavours on the palate lead into a rich and soft structure with some savoury grip coming from the whole bunches and the oak maturation to balance the finish.